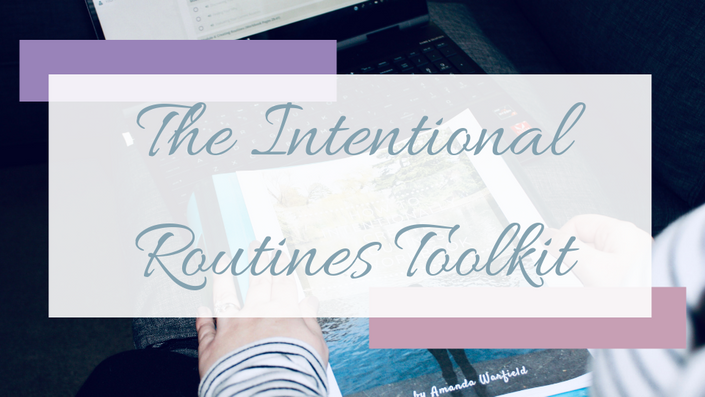 Intentional Routines Toolkit
Everything You Need to Create Routines that Will Simplify Your Life
I've been there, friend.
The word that most describes your life is busy.
You're overwhelmed.
You say yes to everyone when you really should be saying no.
You feel like your days are passing slowly but the years are going fast.
You never have enough mental bandwidth or patience to deal with your kids/husband in the way you would like.
You never have time for yourself, and when you do, you don't even know what you enjoy to do anymore.
I know that you don't want to feel that overwhelm anymore, though. I know that you've scoured Pinterest looking for the perfect routines to make life easier.

I know that you try to use those routines that you find, but they never seem to work very well. They make life more complicated rather than simpler.
You know that there has to be a better way to implement routines, but you feel lost and overwhelmed and don't even know where to begin.
Darling, it's time for you to say goodbye to over-complicated routines, and hello to simplicity.

It's time to dig deep, uncover what you actually need from a routine, and create intentional routines that will make things easier for you.
You have everything you need inside of you, friend, to create those intentional routines and I want to give you the tools you need to guide you through and make it happen!
THE INTENTIONAL ROUTINES TOOLKIT HELPS YOU CREATE INTENTIONAL ROUTINES THAT ENSURE YOUR PRIORITIES ARE TREATED LIKE PRIORITIES SO THAT YOU CAN BE PRESENT AND JOY-FILLED WHERE AND WHEN IT MATTERS MOST.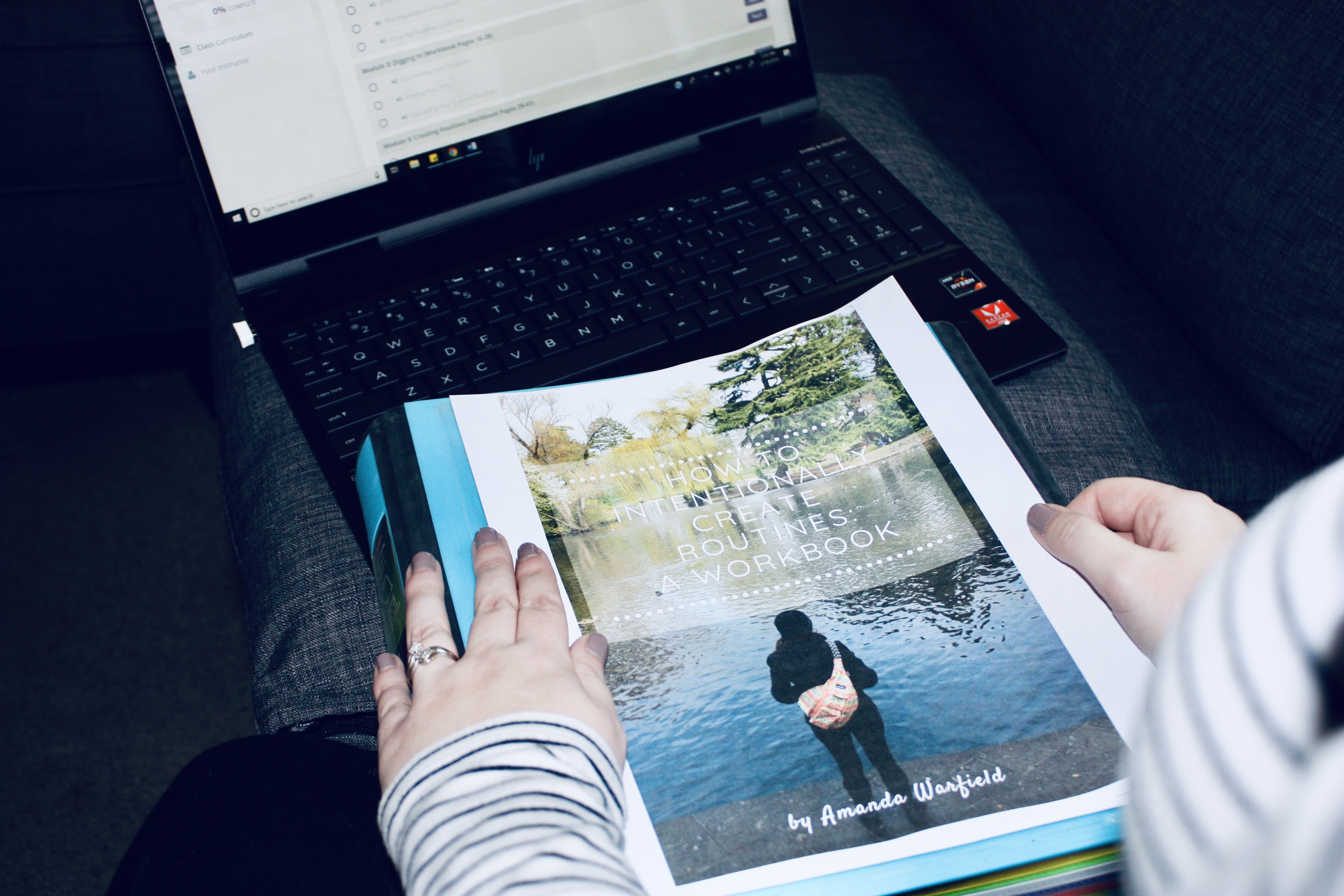 This workbook will help you:
Discover your why and your priorities

Evaluate where you currently are in order to move forward

Recognize the lies that are holding you back

Visualize your ideal routine, and then ensure it's realistic

Implement your new routine

Reflect on and tweak the new routine
This course is closed for enrollment.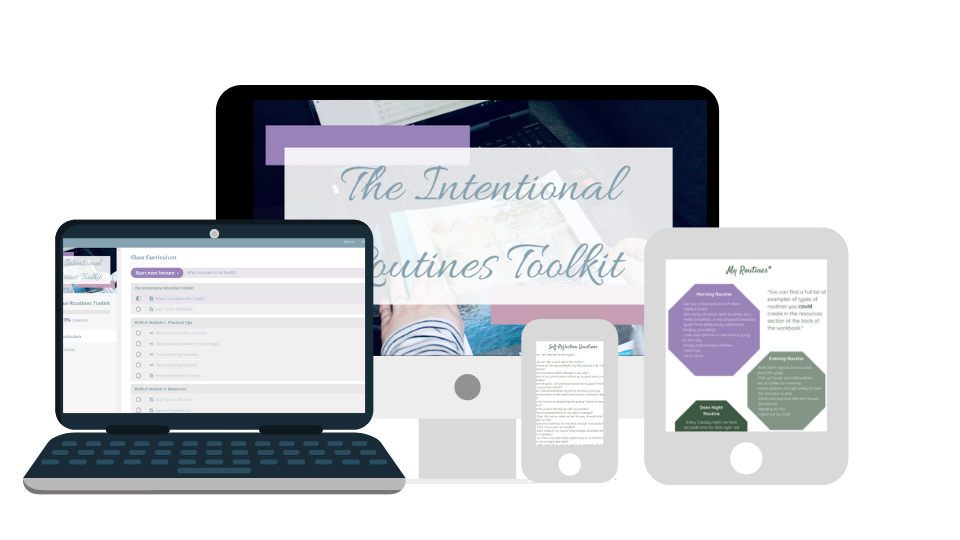 Included in the Toolkit:
A 50 plus page workbook designed to help you create intentional routines

Exclusive mastermind group solely for toolkit students

Any and all future updates

Two bonus modules full of extra tips and resources to help you create the best possible routines for you!
"Besides being a phenomenal and beautiful friend, Amanda has created something truly special and practical for those who find themselves in a cycle of "I'll start tomorrow's" and "I need to change my routine but I don't know how's." Amanda's intentionality workbook is specifically for those who are over-schedule and have difficulty making the much-needed changes to their routines. That description definitely fits me. I am a full-time grad student, I juggle a handful of nannying jobs, I see clients, and I want to make time for my husband and friends. It is easy to make excuses or try a routine that is pre-made on Pinterest, but those are not specific to anyone's life but the creator of the post. Amanda's workbook is unique in that it leads you through the steps of creating a routine and providing the space to do so. I loved using the workbook and will continue to alter and create new routines with it to more efficiently spend my time. "
- Jennifer Dougherty
Frequently Asked Questions
How long do I have access to the toolkit?
How does lifetime access sound? After enrolling, you have unlimited access to this toolkit for as long as you like - across any and all devices you own. Including all future upgrades and improvements made to the course, at no additional charge to you!
What if I decide I don't want the toolkit?
Due to the downloadable nature of the workbook, we unfortunately cannot offer refunds. Before purchasing, make sure you're willing to put in the work to make a change in your life.
How long will I have the ability to enroll?
This course is evergreen—meaning that, as of now, I plan to keep it open to enroll at all times. However, I cannot guarantee the pricing. As of now, you can get it for this price, but as I add more material and improvements, the price will rise to reflect the value.
Will an online course work for me?
If you're willing to put in the effort, then yes, it will work for you. This course isn't a magical cure-all though. If you buy it, and don't put in the effort to work through the workbook with intentional thought, then things aren't going to change. As with anything, you get out what you put in.
What if I'm just still not sure?
Friend, I want you to feel confident in your decision to move forward with creating your own intentional routines. If you're still not sure whether or not the course is for you, email me at
[email protected]
, and let's chat!
What if I'm just still not sure?
Friend, I want you to feel confident in your decision to move forward with creating your own intentional routines. If you're still not sure whether or not the course is for you, email me at
[email protected]
, and let's chat!
This course is closed for enrollment.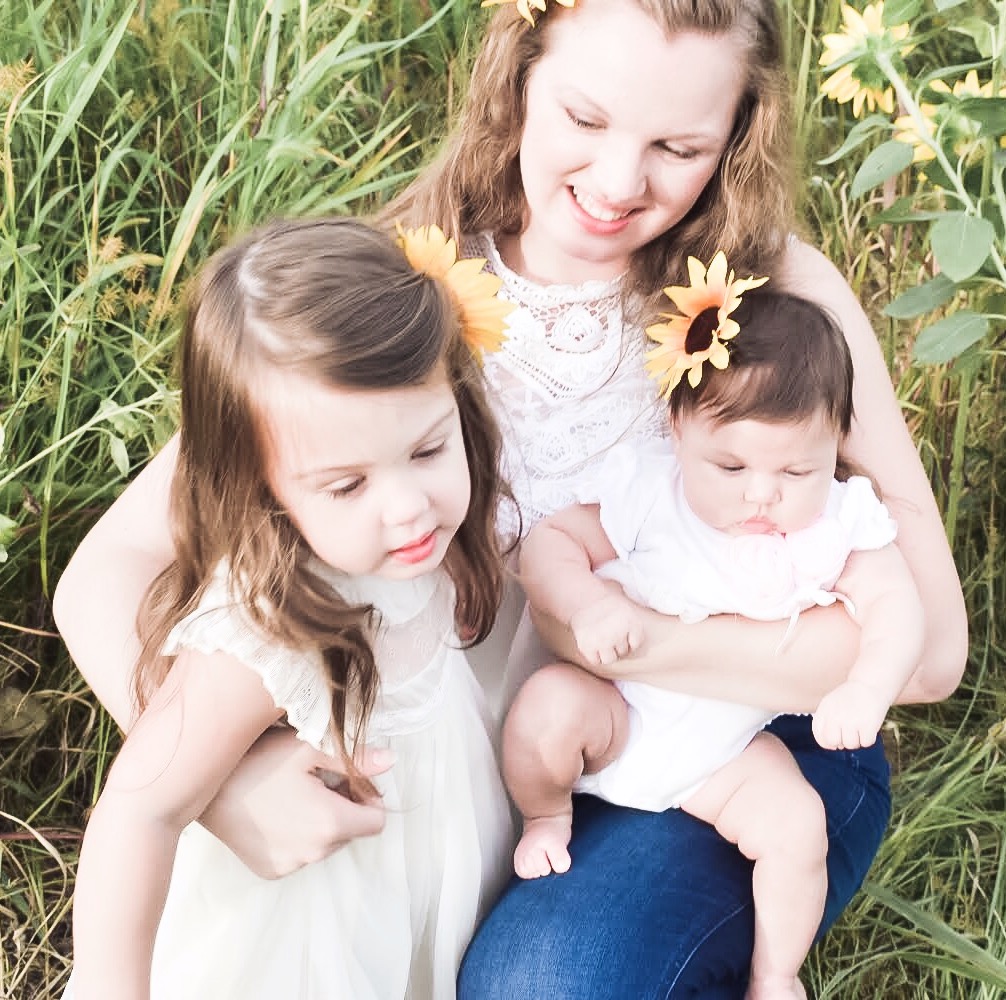 "This book came at a great time for me. I had my second daughter in May. So evaluating old routines and creating new ones was important. I also have a two-year-old and I am working mom, so prioritizing wants and needs was really helpful for me when it came to creating my new routine with my newborn. Not only did you cover creating a new routine but you went a step further and talked about implementing it. And i'm also glad that you talked about seasons of life. I am going back to graduate school and my season of life will change again, and my routine will have to be evaluated again and I will have to continue checking in with myself. This book is it just a one time resource, but it is a tool that will help ease my transition from one season of life to the next. I still have a ways to go when it comes to implementing mine new routine, but I am motivated because of how intentional it is. Spending time with my kids, and creating wholesome and healthy meals for them, and working on their education while I have time with them is really important to me. And staying motivated to implement those routines and making new habits is great! Thank you Amanda for sharing this book with us!"
- Tess Viox, vioxvitality.com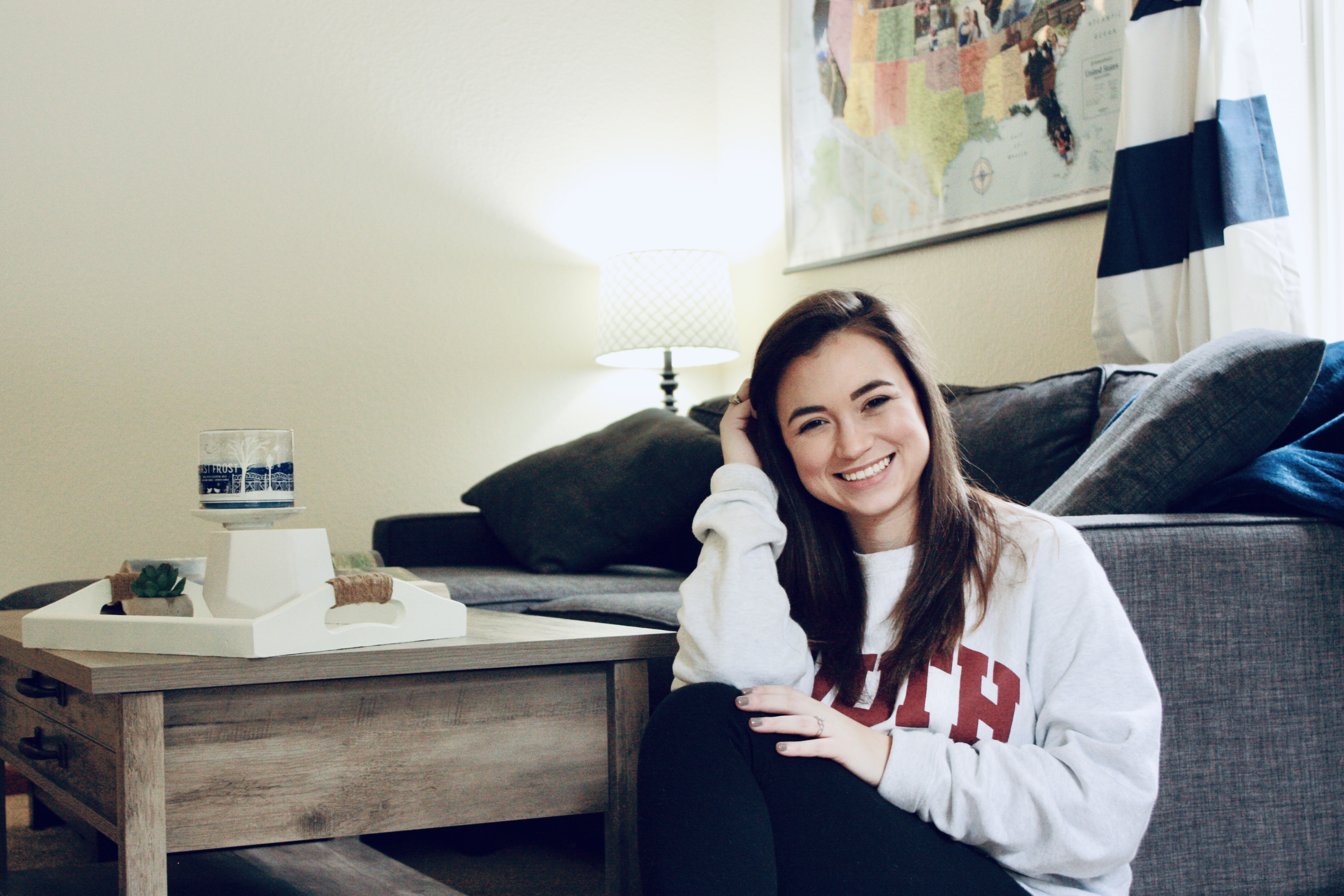 I've been there. I'm still there. Even now, when I let my routines slip, I feel those feelings of overwhelm, failure, and even apathy.
But taking the time to create intentional routines that fit my lifestyle changed everything for me.
I'm now able to prioritize my faith, and I start each day with some quiet time with God.
My marriage is actually treated like the priority it deserves to be.
I have time to fill my own cup.
Intentional routines have ensured that what matters most to me, is treated as such. By creating routines and setting firm boundaries around those routines, I'm able to spend that time being present instead of trying to multi-task, or think about other things.
If you're ready to create routines that will help you stop spending so much time on the things that don't matter, and start spending time on what does, join me today.
This course is closed for enrollment.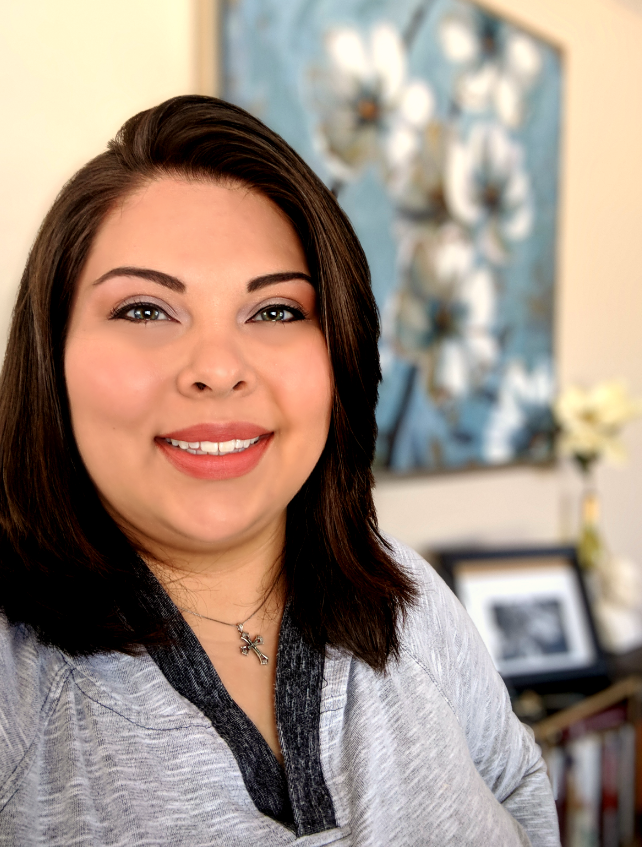 "The Intentional Routines Toolkit contains smart, easy steps to creating a routine. Amanda goes into not only how to create a routine, but she also helps you discover why you need one in the first place. As I worked through it, I learned a lot about my current habits and identified what I need to change to create a routine that maximizes my productivity and gives me the time I desire to spend with my family. I highly recommend this workbook to anyone who wants to create a routine they love."
- Brianna, livingkairos.com
Here's the deal, friend.
Routines that you've intentionally created can and will change your life. Sometimes you just need someone else to help get you started, and guide you through.
I spent entirely too long feeling overwhelmed and frustrated, but never having any semblance of a good routine. Then, I taught myself how to create intentional routines that are life-giving and now I want to share that process with you.
If you're ready to stop merely surviving and instead start thriving, enroll yourself today!
This course is closed for enrollment.
10% of every sale will be donated to the conservation of Red Wolves. Learn more about their endangered status here.
Your Instructor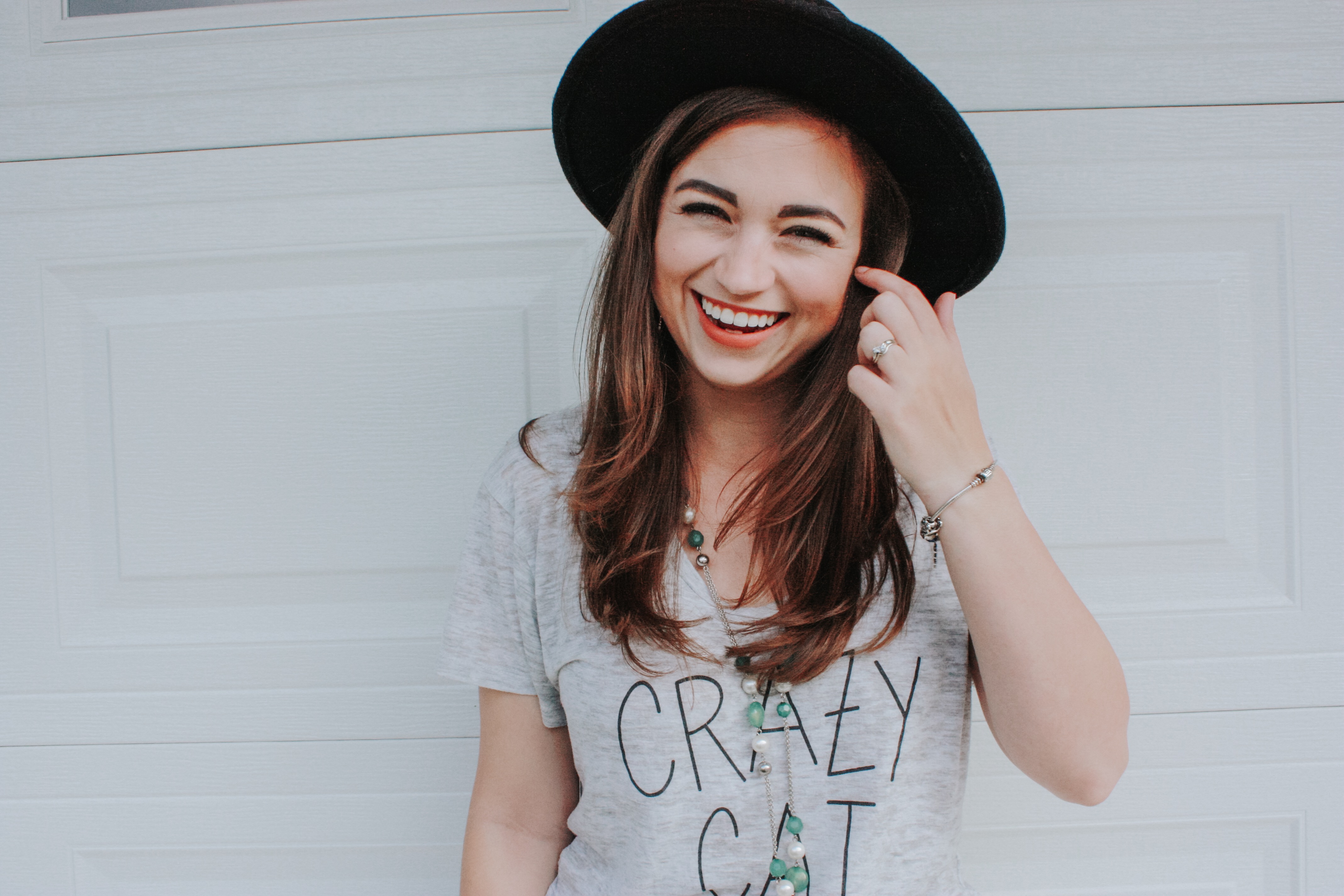 Simplicity lover, time management coach, and host of the Chasing Simple Podcast — my mission is to help you simplify your life and take back your time.
After running a business that was running me ragged, I was fed up. I'd created my own business so that I would have the freedom to spend more time with my husband, but I was spending all of my time working instead. All of the productivity skills in the world weren't helping me have more freedom — they were just helping me do more.
I started to implement simple living practices into my business, and finally felt like I could breathe again. Ever since, I've been dedicated to helping other overwhelmed creatives simplify and organize their business and schedule in a way that will grant them the same freedom.